Latest Additions
Nursing Curriculum Available Online (added 1.24.02)
The full text (including illustrations) of the Collaborative HIV Nursing Curriculum is now available on-line, in .pdf format. Each module can be downloaded individually, so you can print only the modules that are most relevant for your program. You can also download the entire curriculum.
---
Options for Children: A Guide to Antiretroviral Therapies (added 1.1.01)
The Baylor International Pediatric AIDS Initiative is pleased to provide this tool for people who are facing HIV care decisions for children. It is meant to clarify the latest information on anti-HIV treatments for children, including medications that are currently available in pharmacies, and those that are still in the clinical phase of research.
Treatment of Pediatric HIV Infection (by Mark Kline, M.D.) (added 12.11.00)
A report on antiretroviral agents currently available for treatment of pediatric HIV infection and treatment recommendations.
Practical Aspects of Antiretroviral Therapy (slides by Nancy R. Calles,R.N.,B.S.N.) (updated 8.13.01)
This slide set reviews practical considerations for health care professionals who are using antoretroviral therapy to treat HIV-infected children. Pictures of each medication, standard dosing recommendations, and tips for administering the medicines are all included. (947K Powerpoint, 82 slides)
Guidelines on teaching children to swallow pills, intended for medical care-givers. The technique is based on the behavior modification principle of shaping - teaching a child to do a difficult task by starting with a simple task and moving to progressively more difficult tasks.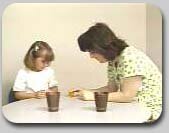 Pill Swallowing Video (8.25.99)

An online video e-clinic on teaching children to swallow pills. The presentation consists of five video clips. Funding for this project has been generously provided by an unrestricted educational grant from Hoffmann-La Roche, Ltd.

RealPlayer G2 version is required. Download the FREE player from real.com.

Helping Children in Pain: A Team Approach

BIPAI sponsored a conference in Bucharest and Constanta, Romania in May 1999 to assist nurses, physicians and social workers in developing a systematic manner of assessing pain, to inform them on pharmacological and non-pharmacological interventions, and to help them deal with their own feelings of powerlessness when caring for HIV-infected children in pain. This resource is a summary of the conference. (You may also download the complete document in Adobe Acrobat format.)

AIDSInfo Project (at AIDSinfo.nih.gov)

The AIDSInfo site includes federally approved information on HIV/AIDS treatment and prevention guidelines, a comprehensive database of both government and industry-supported HIV/AIDS clinical trials,and information about approved and experimental HIV/AIDS drugs and vaccines.

Pediatric HIV Infection (by Mark Kline, M.D.)

Dr. Mark Kline, Program Director at BIPAI, examines important features that distinguish HIV and AIDS in infants and children from their expression in adults.

A video program to offer education and motivation on the topic of medication adherence to HIV-infected children and teens (8 to 18).

BIPAI has compiled a list of other online resources on pediatric AIDS.