Secure the Future Art Exchange Program
The Baylor International Pediatric AIDS Initiative is pleased to partner with Secure the Future in creation of a child-to-child, nation-to-nation art program honoring women and children affected by HIV/AIDS.
Background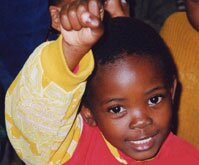 The art of children is an integral component of the family-centered care provided at Texas Children's Hospital to thousands of children each year, including some 200 who are HIV-infected. Artwork invites children in, reassuring them that the Hospital is not necessarily a scary place, offering them visual support created by other children. Reflected in the art created by their peers, children see familiar images and ideas. Through a program called "The Art of Texas Children's," pieces have been installed virtually throughout the campus, including these major exhibits:
Paintings by students from Kazakhstan;
The Living Wall, a growing, ever-changing installation of ceramic self-portraits and portraits of pets, friends, even of Mrs. George Bush;
"Making a Mark," an annual exhibit of art by children touched by cancer, displayed at Texas Children's, then loaned to corporate headquarters buildings, international conferences of pediatricians, the Texas state capitol building and elsewhere;
Fish 'n' Boots Garden, a roof-top pocket garden where 144 hand-made mirrored metal fish and real boots of all kinds dangle enticingly in the sky;
Hand-painted wheel-covers for the Hospital's fleet of child-sized wheelchairs, each set fancifully painted by a classroom of local schoolchildren;
More than 700 large-scale paintings by area schoolchildren and community groups that camouflage construction barrier walls and that ultimately will be installed to enliven a new underground parking garage.

Under sponsorship from Secure the Future, our plan for an international art exchange will give voice to the dreams of African and American women and children affected by HIV/AIDS.

Purpose

An exchange of empathetic, shared experience through art will give life and permanence to the imaginings of children affected by AIDS on two continents. A high-visibility, permanent exhibit of art by African women and children at Texas Children's Hospital will inform and educate thousands of families and health care providers who encounter the art each year. Exhibits of art by American children affected by AIDS will offer shared experiences to children and women in health care and educational settings in southern Africa, creating a bond between the cultures ... and between those who create and those who experience the artworks.

Program Plan

The Secure the Future art exchange program has three major components: (1) collection and exhibition of artwork by Houston children affected by HIV/AIDS in centers across southern Africa; (2) creation of permanent exhibitions of artwork by African women and children affected by HIV/AIDS at Texas Children's Hospital and at Bristol-Myers Squibb's Princeton, New Jersey headquarters; and (3) creation of an Ambassador Doll, a simple muslin doll created by children in Houston with HIV/AIDS, who will travel throughout the U.S., Africa, and the world offering friendship and hope to HIV-infected children everywhere. The doll's suitcase will be filled with photos of Houston children creating artwork, and with letters to their prospective new friends in Africa. African children will be invited to create more clothing, to tell their stories to new pen pals, to take the doll on sight-seeing expeditions and simply to make her their friend. Eventually, the doll will visit children with HIV/AIDS in other U.S. cities, Romania, Mexico and other nations, drawing them into a growing circle of friends and pen pals.

Invitation for Collaboration

Anyone interested in participating in an exchange of artwork by women and children affected by HIV/AIDS, or in the Ambassador Doll project, should contact the Baylor International Pediatric AIDS Initiative.