Accomplishments
With support and collaborative input from the Romanian Ministry of Health, the Constanta Municipal Hospital, and many other individuals and organizations, Baylor's program in Romania has had a number of important accomplishments, including the following:
1. The landmark Romanian-American Children's Center was dedicated in Constanta, Romania, on April 6th, 2001 (Read more). Other program expansions are also underway.
2. With funding from its Center for AIDS Research, Baylor has established an International Core Laboratory in Bucharest at the Stefan S. Nicolau Institute of Virology (Costin Cernescu, M.D., Ph.D., Director). This laboratory provides state-of-the-art testing for diagnosis and monitoring of pediatric HIV infection, as well as laboratory support for a variety of HIV/AIDS clinical research projects.
3. Baylor has sponsored a number of conferences for Romanian health professionals, including a National Congress on AIDS in Romania, two Pediatric Pain Management Conferences, and ten Romanian-American Pediatric HIV Nursing Symposia. A total of 600 Romanian physicians, nurses, and social workers have attended these sponsored conferences. Baylor has developed a comprehensive HIV/AIDS nursing education curriculum, which was used first at the Romanian-American Pediatric HIV Nursing Symposium in September, 2000. These sponsored educational conferences and curricula are essential to building capacity for HIV care, treatment, and clinical research.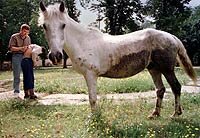 U.S. pediatric residents participate in HIV/AIDS training experiences in Romania
4. Six Romanian physicians and two dentists have received HIV/AIDS training at Baylor. Ten senior U.S. pediatric residents have completed short-term HIV/AIDS training experiences in Romania.
5. Seven individual collaborative clinical research projects are underway at the Romanian-American Children's Center in Constanta. It is hoped that the results of these projects will improve the care and treatment of HIV-infected children in Romania, the U.S., and globally.