Other Romania Program Activities


The renovated inpatient unit at the Constanta Municipal Hospital.

Baylor has launched a number and variety of activities in support of its comprehensive program to enhance the health and well-being of HIV-infected children in Constanta. Funding from Abbott Laboratories has allowed us to completely renovate the inpatient unit for children at the Constanta Municipal Hospital. Renovations include a new electrical system, new windows, new floors, and new furniture. These renovations have remarkably improved conditions for HIV-infected children requiring hospitalization.

Funding from Abbott Laboratories also allowed Baylor to purchase a family home in Lazu, Romania (just south of Constanta) for 11 abandoned, HIV-infected children who previously were in residence at the Constanta Municipal Hospital. The 3,000 square foot house sits on an acre of land that is used for playground equipment, farm animals, and a vegetable garden. House mothers provide around-the clock supervision and care. The children benefit from tutoring and a variety of recreational and social activities.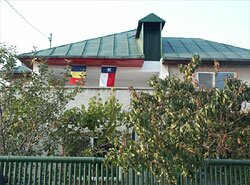 The family home at Lazu. Romanian and Texas flags wave from the upstairs porch.

A generous grant from the Sisters of Charity of the Incarnate Word, has allowed us to expand the nutritional and psychosocial support we are able to provide at the Romanian-American Children's Center. These services are key to achieving success in the implementation of highly active antiretroviral therapy and other care and treatment activities in the center. Funding from Abbott Laboratories also has allowed for the creation of a palliative care program to improve management of pain and other HIV-associated symptoms, and a home care program that now allows clinic staff to visit children and families in their homes five days each week. Home care services include basic medical care, psychosocial support, comfort care, patient and family education, and bereavement support.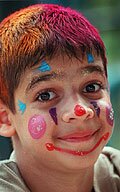 A Romanian visitor gets his face painted.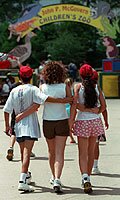 Romanian children with a BIPAI staff member at the Houston zoo.

Finally, in collaboration with AIDS Foundation Houston, Baylor has been able to sponsor a total of 17 Romanian children for trips to Texas to participate in Camp Hope, an annual week-long camp for HIV-infected children. Camp is held at "Camp for All," a beautiful, 206-acre site in Brenham, Texas. This facility provides the campers with a variety of activities, including swimming, canoeing, horseback riding, mountain bike riding, archery, ropes courses, team sports and late night campfires. Camp for All also has its own on-site medical facility that is staffed with medical personnel from Texas Children's Hospital and Baylor College of Medicine. Each of the past two summers, the Romanian children have been accompanied by staff from the Romanian-American Children's Center in Constanta. At camp, Romanian and American children are able to share with one another their individual experiences with HIV in Romania and the United States. In addition to attending camp, the Romanian children have visited AstroWorld, the Houston Zoo, NASA, and an Astros baseball game. Plans to bring another group of Romanian children to Texas for Camp Hope 2003, already are underway. We welcome individuals or organizations interested in co-sponsorship of campers.